All over Asia, more and more new buildings are developed. They are characterized by extreme height, and being highly sophisticated and intelligent. Numerous E&M services have to be squeezed into the escape route or protected lobby. In fact, this would mean extra potential fire risk to the properties and human lives.
Meanwhile, there are many buildings that were built more than 40 years ago and could not live up to the requirements of the most updated Code of Practice for fire resisting constructions, and the change in the style of living.
Blending expertise with innovation and drawing on over 70 years experience, Knauf has secured a leading status in the field of building board technology and has developed passive fire resistant systems according to major international standards such as BS 476: Part 20-24: 1987. All the fire loads could be contained in our lightweight drylining systems so as to prevent the spread of fire from one internal building compartment to another.
The role of passive fire protection
Passive fire protection can be defined as:
providing compartmentation to a given building type in order to minimise the spread of fire and smoke;
ensuring the integrity of compartments in case of fire by firestopping any gap penetrating through those building sections;
offering heat insulated solutions to eliminate possible self-ignition of combustible materials by the transfer of heat through building elements; and
protecting structural elements from deformation and collapse, or minimising heavy repair costs of spelled concrete in the case of underground spaces such as tunnels. Consequently, the implementation of passive fire protection principles can achieve the following results:
Contain smoke and flames in a safe cell for a given fire resistance period.
Safe evacuation of building occupants without being obstructed by smoke and flames.
Sufficient time for fire fighters to reach the site (this is not to be neglected especially during peak traffic hours in busy cities).
Allow fire fighters to operated quickly and safely in smoke-free zones.
Minimise the cost of property damages for the developer.
Passive measures with ensure higher safety standards and offer cost-effective solutions whenever active protection has reached its limits.
Building materials and their reaction to fire
Generally speaking, mineral-based building materials made of cement, clay, sand or vermiculite have excellent fire resistance.
However, architectural requirements have been leading towards the development of building materials with a low reaction to fire that should also achieve:
Heat insulation properties
Impact resistance
Sound attenuation
Resistance to humidity and moisture exposure
Speed of installation
Lightweight
Workability
Visibility
All properties cannot be combined in one building element as all materials behave differently in a fire. The task of selecting suitable fire resistance materials that meet stringent test standards and comply with Building Codes while at the same time remain architecturally appealing, requires a lot of research.
The list of those materials can be very long but major and popular product categories can be summariesed as follows:
Calcium silicate boards
Vermiculite-based boards
Firbe cement and steel laminated boards
Gypsum and other cement-based linings
Individual materials must be tested at a recognised fire testing laboratory and satisfactory reports should be provided to determine their performance in reaction to fire. British Standard BS 476 tests are quite comprehensive and very well accepted.
Knauf works closely with the market and develops systems according to the requirements of the ¡®Code of Practice for Fire Resisting Construction 1996¡¯ of the Buildings Departments.
Fire Resistance Period
Every element of construction within each compartment and every compartment wall or compartment floor should have an FRP of not less than that specified in the table below.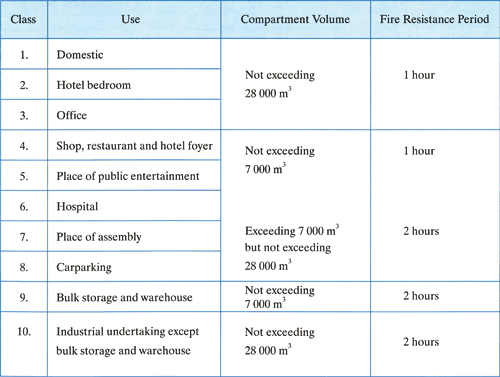 Blending expertise with innovation and drawing on over 70 years experience, Knauf has secured a leading status in the field of building board technology and have developed dire resistant systems according to major international standards such as BS476: Part 20~24: 1987.
To meet the various requirements of fire protection, water resistance and extreme impact of building components, Knauf produces fibre cement boards such as Superpanel for partition, industrial lining, ceiling and structural steelwork encasement applications. Superpanel is composed of Portland cement, inorganic fillers and binders, and is therefore the perfect boarding for wet area.
Knauf Superpanel could be handled with conventional wood working tools and installed with commonly used mechanical fixing components and system.
E&M Services Enclosures
To ensure the proper functioning of essential building services such as emergency lighting, fire pump¡­.etc, for a specific period of time during fire, the services shall be encased by fire resistant board, Knauf Superpanel, according to BS476: Part 20. With the fillet installed internally, the Knauf Superpanel enclosure would be neat and tidy.

Knauf Hong Kong Office:
Eric Li, Commercial Manager
Tel: (852) 2964 9311
Fax: (852) 2964 9313