April 29, 2019

Arcadis' new regional headquarters by One Space awarded

Arcadis, a global natural and built asset design & consultancy firm, engaged One Space to design its new 78,000 sq ft headquarters. Located in Two Harbour Square, Kwun Tong, the new Grade-A office space, housing all of Arcadis' core services within a single shared workplace for the first time, was awarded Certificate of Excellence for the "Sustainability Achievement of the Year" by RICS, and named one of 2018's "Most Inspiring Workspaces" by Human Resources magazine.
Connected via staircases, the three-storey workplace was designed for activity-based working and to promote collaboration, creativity and flexibility for over 900 staff across Cost & Commercial Management, Project & Program Management, Business Advisory and Design & Engineering teams. The task required One Space to not only imagine a wide range of workspaces to encourage greater collaboration and patterns of use; but also to create facilities that could accommodate the different workflows and processes of these four core services.
Each floor of has two or three large 'neighbourhood squares', branded to create identifiable destinations that relate directly to the 'built asset' realm of the company's business: Cityscape, Greenscape and Harbourscape. A variety of huddle spaces facilitate face-to-face interaction – encouraging people to share their respective 'best practice' experiences, nurture creativity and work together as a cohesive team.
In the move, sustainability and well-being were a part of Arcadis' top priorities. This saw 78% of workstations within the new headquarters being height-adjustable to help promote healthy metabolic activity, improve posture and generate greater mobility during office hours. Live plants were deployed strategically, as much for mental invigouration as to improve indoor air quality.
With the newly developed Kwun Tong Business District's social and dining infrastructure still emerging, Arcadis was committed to creating a self-sustaining ecology of everyday lifestyle facilities within their premises. A vibrant 4,000 sq ft multi-purpose Town Square, located at the point of arrival and overlooking Victoria Harbour was designed to invite visitors and staff alike to pause and refresh, to meet casually and to dine together. Healthy food choices are delivered by a contracted social enterprise, operating under sustainability guidelines. At the opposite end of the human-needs and behavioral spectrums, the need for quietude, mindfulness and concentration are met by wellness rooms, mothers' rooms and recharge quiet zones on every floor.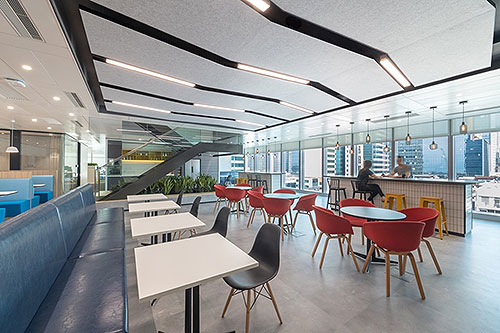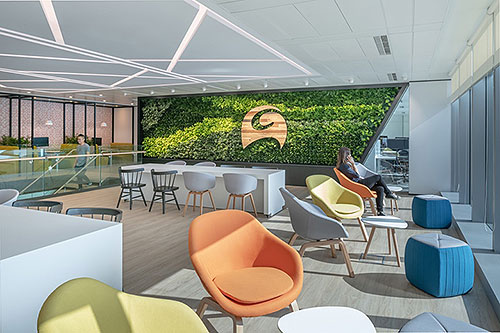 Building Materials & Equipment Suppliers Company Profiles <click here>