April 9, 2019

A central hub connecting three of Changi Airport's current four terminals

Jewel is set to open its doors on 17 April 2019, the 137,000 sq m space acts as a central hub, connecting three of Singapore Changi Airport's current four terminals, making it easily accessible to public and passengers. With over 65 million passengers passing through Changi Airport in 2018, Jewel is set to establish a new airport typology as a destination that promotes community, commerce and entertainment.
Collaborating closely with Safdie Architects, Benoy has delivered a dynamic retail identity for the project. The interiors navigate the many interfaces between aviation facilities and the retail centre. The design celebrates the natural light offered by the Forest Valley at Jewel's core, redefining the traditional sense of the commercial space. The retail design enables visitors to experience the vastness of the open space and the intimacy of nature throughout their elliptical journey of the building.
The expanded Terminal 1 also offers new pedestrian linkages to other terminals and the MRT via Jewel, improving connectivity and accessibility for all.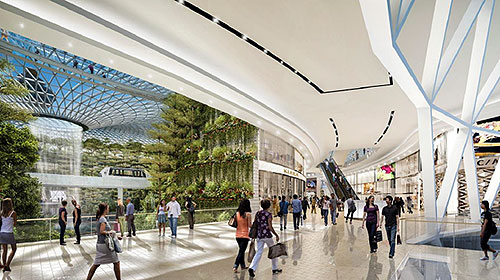 (Photo: Jewel Changi Airport Devt)

Online and Offline year round advertising package from
HK$2,300 per month <click here> for details