August 2000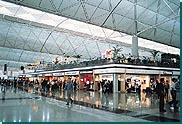 Hong Kong International Airport -
Development continues after two years of operations
On the second anniversary of Hong Kong International Airport, the Airport Authority (AA) has made some reviews of its past performance and plans for the future development of the airport.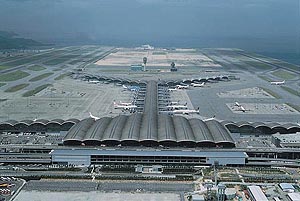 In 1999, the airport was ranked number five and number one worldwide in terms of international passenger and cargo throughput respectively. It operates 24 hours a day and can handle three million tons of cargo annually. Hong Kong has a well-developed air route network, with direct air links operated by over 60 airlines to some 130 destinations in more than 40 countries worldwide.
While 58 per cent of Hong Kong's air cargo is carried in the holds of passenger aircraft, there has been a significant growth in all-cargo services. The number of all-cargo aircraft movement at Hong Kong has more than doubled in the past decade (15,264 in 1999 versus 7,173 in 1989). The number of all-cargo carriers has increased almost two-fold from 15 in 1989 to 29 in 1999. For air cargo services, the government will continue to explore expansion of air services links to meet market demand. In the meantime, there are two air cargo franchisees at the airport. The larger one operated by Hong Kong Air Cargo Terminals Ltd, SuperTerminal 1, is the world's largest stand-alone air cargo terminal handling up to 2.6 million tons a year while the other franchisee, Asia Airfreight Terminal, can handle 420,000 tons a year. In addition, there are four courier companies providing air express services: DHL, Federal Express, TNT and UPS.
Hong Kong is the most important destination for trade between mainland China and the rest of the world. The re-export of mainland-sourced goods through Hong Kong accounted for 56 per cent of Hong Kong's total re-exports in 1999. In particular, some 80 per cent of the total value of imports and exports of Guangdong Province are handled by the ports and airport of Hong Kong. As for passenger traffic, there are a total of seven airlines, including the Hong Kong-based Dragonair, providing scheduled flights between Hong Kong and 40 cities in the mainland. The frequency of flights has increased by 20 per cent in the last two years.
With China's imminent entry to the World Trade Organisation, trade activities, air cargo and passenger traffic between mainland China and the rest of the world are expected to increase dramatically. To meet future demands, the government and the AA have decided to build a marine cargo terminal and two logistics centres at the airport. The marine cargo terminal will provide an alternative and efficient means of transport of air cargo in addition to the land route between the Pearl River Delta and the airport. The logistics centres will enhance Hong Kong's position as an important centre in the Asia Pacific distribution network. They will allow local and overseas companies to provide services ranging from sourcing and distribution to more value-added services such as quality control and product testing. The government and the AA also intend to implement a 15 per cent cut in aircraft landing and parking charges so as to consolidate Hong Kong's position as the premier aviation hub in the region. Furthermore, a HK$50 million (US$6.41 million) landscaping project will be launched to plant two million trees and seedlings (such as bauhinias) to give visitors a fresh, green look at the airport and a good first impression of Hong Kong. the airport will also upgrade the nursery facilities within the airport area, water fountains, toilets and smoking lounges. The AA is also exploring new retail formats to cater the changing needs of passengers. It is planning to have a Cyber Zone in the northwest concourse featuring hi-tech facilities such as internet services which are expected to be available in October.
The Airport Authority has achieved and even exceeded performance targets. In the fourth customer survey, an independent study conducted by Lingnan University in January 2000, 91.8 per cent of respondents were "satisfied" or "very satisfied" with the airport. Indeed, the customer satisfaction rate has been staying at about 90 per cent.