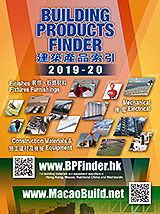 Online Search Engine
<click here>


BUILDING PRODUCTS FINDER
Effective 2019/2020


---
Building Products Finder is a popular publication among professional practices as well as building and construction companies in Hong Kong. To our knowledge no other publication contains more building product reference information for this market. Listings are free for our advertisers.
READERSHIP
BPF Special Advertising Package provides online and offline year-round exposure. The BPF online search engine on www.building.hk is an effective tool for building materials and equipment purchasers in the region and with international appeal. The monthly hit rates and visitors count as at January 2018 exceeds 500,000.
Hong Kong
¡@
Architects, town planners and architectural technicians
Interior designers and contractors
Quantity and land surveyors
building service engineers
Building contractors, subcontractors
Building service contractors
Suppliers, dealers and agents
Real estate developers
6,200
2,500
620
2,950
4,380
1,300
2,300
950
China
¡@
Major design institutes, construction companies, real estate
developers, materials suppliers.
Additional copies will be distributed at major building exhibitions in Hong Kong and China.



15,300

Total
36,500
ADVERTISEMENT RATES
Display Section
4-colour
Back Cover
Inside Front Cover
Inside Back Cover
Page One
Ordinary Page
2 Ordinary Page
$18,000
$15,000
$13,000
$12,000
$10,000
$8,500 each
Product Advertisements in Listing Section
4-colour
One Page
Two Pages
Three Pages
Four Pages
Five Pages
Six Pages
Seven Pages
Eight Pages
$9,500 each
$8,500 each
$7,600 each
$6,500 each
$5,800 each
$5,200 each
$4,600 each
$4,000 each
ADVERTISEMENT SIZES
Bleed Page
(Trimmed size)
Full Page
Doublespread Bleed Pages
(Trimmed size)
Doublespread Non-Bleed
(W)
(H)
219
213
183
432
426
400
x
x
x
x
x
x
295
285
248
295
285
248
mm
mm
mm
mm
mm
mm
ADVERTISEMENT NOTES

Frequency: Annual


All payments must be made within 30 days of billing.
TECHNICAL DATA
Artwork specifications and format <click here>
POSTAL ADDRESS
China Trend Building Press Ltd.
Room 303 Apec Plaza, 49 Hoi Yuen Road, Kwun Tong, Kowloon, Hong Kong
Tel (852) 2802 6299 Fax (852) 2802 6458 E-mail trend@building.hk